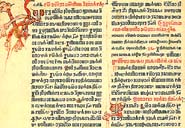 Missale Romanum Glagolitice, 1483. Image of the copy in the National and University Library in Zagreb, from web site
The European Digital Library Treasures.
1483 MISSAL
There are no indications where book was printed, who print it or who financed the project. Because of very high quality of the printing, design, and cut of the type, it is generally assumed ... more -->
The altar missal is the book which contains the prayers said by the priest at the altar as well as all that is officially read or sung in connection with the offering of the holy Sacrifice of the Mass ...
more -->
None of the extant copies of the 1483 Missal are complete, but some of them are in fairly good condition so that by the collation of all copies it was possible to reconstruct the original structure ... more -->
The 1483 Missal was printed in the square form of the Glagolitic uncial script. Although the
Missal of Prince Novak
was used as the textual exemplar, the shape of letters and ligatures ...
more -->
The binding of the Glagolitic books did not differ that much from binding of contemporary books in Italy and Germany. The wooden boards were covered with blind-tooled leather, and sometimes ...
more -->
There is no information about the size of edition of the 1483 Missal. In the early years of printing, editions, even for popular titles, rarely exceeded 200 copies. Of whole edition, there are preserved ...
more -->
---
Written by Vlasta Radan.
Last update April 10, 2006.